First Christian Church
Find meaning and mission in following Jesus at First Christian Church.
Plan a visit
Live Stream
We are currently looking for a guitar player for our Worship Service. If you are interested in this volunteer position please email Michael Tomlinson at: michaelfcc@mycci.net
Our Services
Sunday Morning
With the recent Covid virus we are currently offering one service at 9:30 am and no children's Sunday School or nursery. Thank you for your understanding.
Sunday morning is an opportunity to worship God in a way that you feel comfortable. At our 8:30 am service, you can expect traditional hymns and songs accompanied with piano, along with weekly communion and a message from God's word. We also have a choir and bell choir that performs throughout the school year. At 9:30 am we offer Sunday School classes for those of all ages, including a nursery for newborns, to classes for our seniors. All ages are welcome!
Our contemporary service begins at 10:30 am, led by our praise band. Our time of singing is an act of worship, so feel free to sit, stand, or raise your hands. You will see people dressed in suits and ties to jeans and t-shirts. Everyone is welcome! We also serve weekly communion followed by a message from God's word. We offer Children's Church, for children K thru 5th grade after the communion, held in our Education Building. Feel free to have your child attend Children's Church or feel free to have your family worship together in the sanctuary. We are free in Christ!
Sunday
8:30 AM - Traditional Worship Service
9:30 AM - Sunday School
10:30 AM - Contemporary Worship Service
What To Expect
Our foundation sits squarely on the Bible. While it may sound a bit old fashioned, we have found that the truths of God's Word are timeless and they work in every generation. When you visit us, you will find others who love God and love people. We are more concerned with your heart than what you are wearing, so feel free to dress as you like. God does not look at the outward appearance, but the heart.
Visiting a new church can be intimidating, but no worries. We have greeters at the front door to greet and answer any questions you might have. Free coffee in the lobby. After opening announcements we have a Meet and Greet time in which people move about the church to mingle. People will seek you out. We want to get to know you! We have dynamic ministries tailored for growth in Christ for all ages. It is our desire as you worship with us, you grow as a follower of Jesus.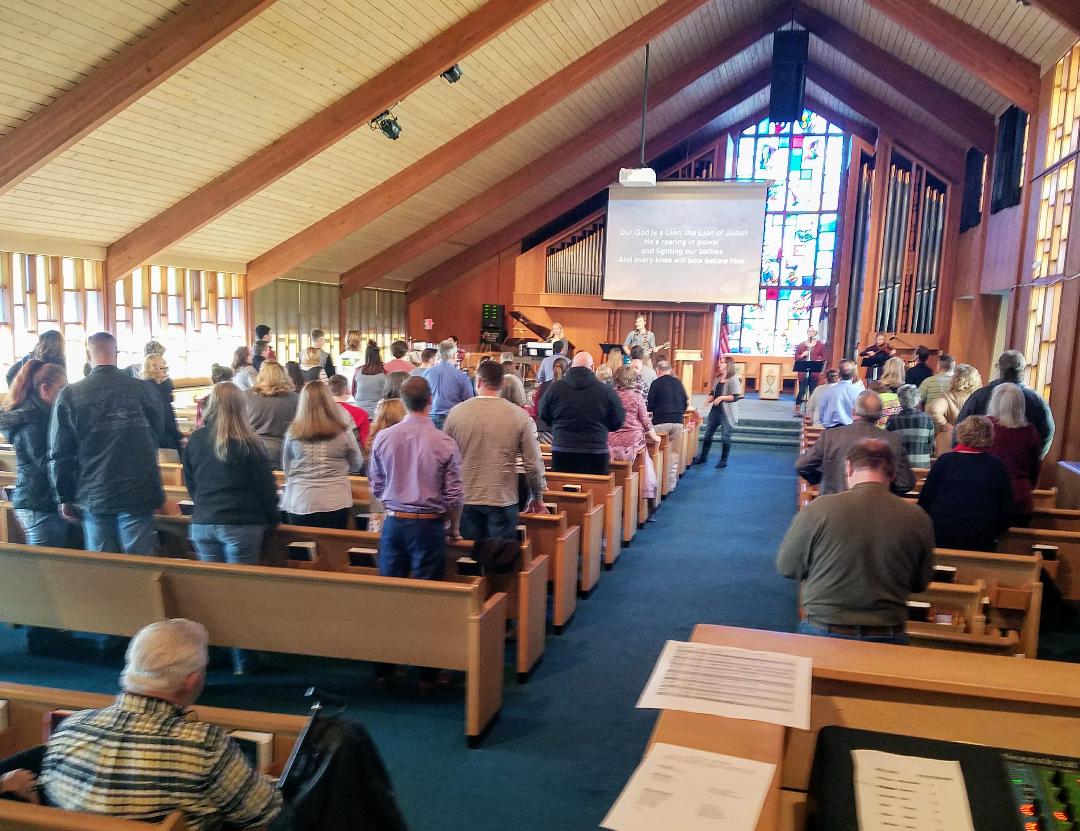 Youth at First Christian Church
OUTLET!
We are very excited to have our kid's ministry (K-5th grade) on Sunday mornings at the 10:30 am service. They will have games, a lesson and friends! We love the idea of teaching your kids about the love of Christ early in life and are excited that this ministry is going to do that in a powerful way. Bring your kids and be ready to hear some awesome bible stories from them!
FROG N ROCK!
We meet on Sunday Evenings from 5:30 pm - 7:30 pm for grades 6th thru 12th. We have FOOD! Really good FOOD! We have fun games including the ever popular Zorb Ball and Gaga Ball! Music events, feeding the homeless, summer conferences and mission trips, and our annual canoe trip to Missouri are highlights! FROG N ROCK meets during the school year.
Any questions contact the church office at 234-2928
MID-WEEK OUTLET!
Children's Ministry is for Kindergarten through 5th graders and JHH Students. Our "Outlet" Program is offered on Sunday nights from 4-5:30 pm during the school year. This hour and half will be jam packed with dinner, worship, dynamic teaching and games. Here at FCC we are all about developing our kids into fully devoted followers of Jesus Christ. This means our kids grow up to love God, are actively serving His purpose, and are in the process of growing to honor God in all areas of their lives. We hope to see your child!
With any questions please call Dolo Wishard our Kid's Pastor at (217) 234-2928 or email at dolokidmin@gmail.com